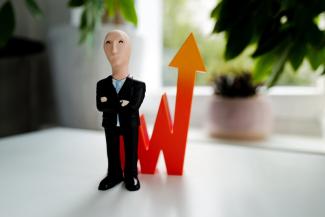 Threadgill Financial Reviews or How to Choose a Financial Advisor
If you landed here, you may be asking "How do you perform due diligence on a financial advisor?" That is a good question, and I'll walk you through the things I would think about given what I know.
The first thing to consider is how the advisor gets paid? Does he work on a sales commission? A fee as a percentage of assets? A flat hourly rate? A fee based on performance? The reason this is important to know is it will help you identify if there is a conflict of interest between you and the advisor. If someone gets paid a commission to sell you something, is it possible their interest and yours are not perfectly aligned? At Threadgill Financial we offer two fee options, 1% of assets managed annually, or a performance fee based on investment performance. Personally, I would prefer a performance fee option. That is why we offer it. Most financial advisors do not offer this option. I believe it aligns our interest and our client's interest well. You could argue that a performance fee gives us an incentive to take extra risk to achieve a performance number. The reality is that we manage the 1% fee accounts and performance accounts the same. So yes, there is an incentive, but it does not affect what we do. Once you understand how someone gets paid, that will give you some clues about how the relationship might go in the future. For example, if someone makes a big commission up front, does that mean you might not hear from them in the future or that they may not have an incentive to provide customer service when needed? Hopefully not, but you can see how the incentive was on the front end to make a sale.... Whereas if you pay someone an annual fee, they certainly have an interest in keeping you around and providing good service. Same with someone who earns an hourly fee. If you don't like what they did last time, you won't come back.
The next thing to consider after understanding how an advisor gets paid, is to understand what regulatory body has authority over them. There are basically three categories. Those who only sell life insurance or annuities are regulated by the state's department of insurance. Advisors who manage investments are either regulated by FINRA (Financial Industry Regulatory Authority) or the SEC (Securities Exchange Commission). The reason to care about how an advisor is regulated, is it can tell you whether they are required to act as a fiduciary. A fiduciary is required to put your interest ahead of their own. I do not know about you, but if I'm going to let someone manage my money, I would want them to act in a fiduciary capacity. There has been an effort to require all advisors regardless of how they are registered (insurance license, FINRA, or SEC) to be fiduciaries, but it was delayed, then vacated. So, as it currently stands, those who are insurance licensed or those licensed under FINRA are not required to act in a fiduciary capacity. This does not make them bad people, but it is important to understand the dynamic. Their recommendations could be influenced by incentives and a relationship dynamic that is less than perfect. Advisors regulated by the SEC as investment advisors are required to act in a fiduciary capacity. How can you tell? Ask them, are you regulated by the state insurance department, FINRA or the SEC? Then you can look them up here to check.
Here is what that looks like for me (Zac) and Adam and our firm.
If the advisor is regulated by the SEC, it will say "investment advisor" on their regulatory listing. If they have had any customer complaints those will be listed under Disclosures along with any run ins they might have had with the SEC. Disclosures are generally permanent, even if the advisor was not at fault. That is, if a client complained but it was found the advisor was not at fault, the disclosure remains, so if you see one, it is important to read through it to see what the deal was. Threadgill Financial and Zac & Adam Threadgill do not have any disclosures. Squeaky clean. These disclosures will list serious infractions an advisor or firm may have had with the SEC, lawsuits, bankruptcies and such.
Ok if you've made it this far you've determined how someone gets paid and thought about how that may incentivize them. You've learned how they are regulated, whether they are a fiduciary and if they have any customer complaints or other regulatory problems. The next things you may want to consider are other qualifications like education and experience and certifications. I (Zachary) have a bachelor's degree in finance (Cum Laude, that I earned while working full time). I also have a law degree from SMU, passed the TX State bar the first time (though I do not practice law), I have been a Certified Financial Planner for 12 years. Adam has a bachelor's degree from UT (he is the smarter brother), a law degree from UT (see better law school), also passed the bar on the first try (also does not practice law) and is also a CFP. Adam is a Marine, so I try not to irritate him too much.
There are a bunch of designations in the financial planning industry. Some of them are difficult to get and have some value to you as a consumer and some are easy to get and are garbage. The ones to look for that would indicate hey this is a smart dedicated person are CFA, CPA or CFP. If someone took the time and effort to get one of these, they know some stuff. In addition, those have their own regulatory bodies and code of ethics that an unscrupulous person might get entangled in if they were in the habit of messing their clients around. For example, to get or maintain any of those designations, you cannot have a criminal background. The CFP board has its own set of fiduciary standards that CFPs owe to their clients.
You can search for a CFP near you here: https://www.letsmakeaplan.org/
You might look to see if the person or firm you are looking at has reviews left by clients in the places people leave reviews online. Google reviews, etc. Some financial advisors get listed with the Better Business Bureau BBB. That is another legitimate spot either happy or dissatisfied customers may leave feedback about their experience with the advisor.
Finally, there is one more important factor in selecting a financial advisor. Is this someone you like and trust? Do they speak in a way that you understand and that makes sense to you? Do you get the feeling they have your best interest at heart? Part of their job will be to help you make complex decisions and explain them in easy-to-understand language. Be sure you go with someone who both you and your spouse like and trust. There are many financial advisors in Houston, so find one that makes sense to you.